Our First Choice: Xbox One X $366
The Xbox One X is the most powerful system that Microsoft currently offers. It has a lot of storage, amazing processing power, and 4k resolution. The recent drop in price has made this system our top pick for console streaming.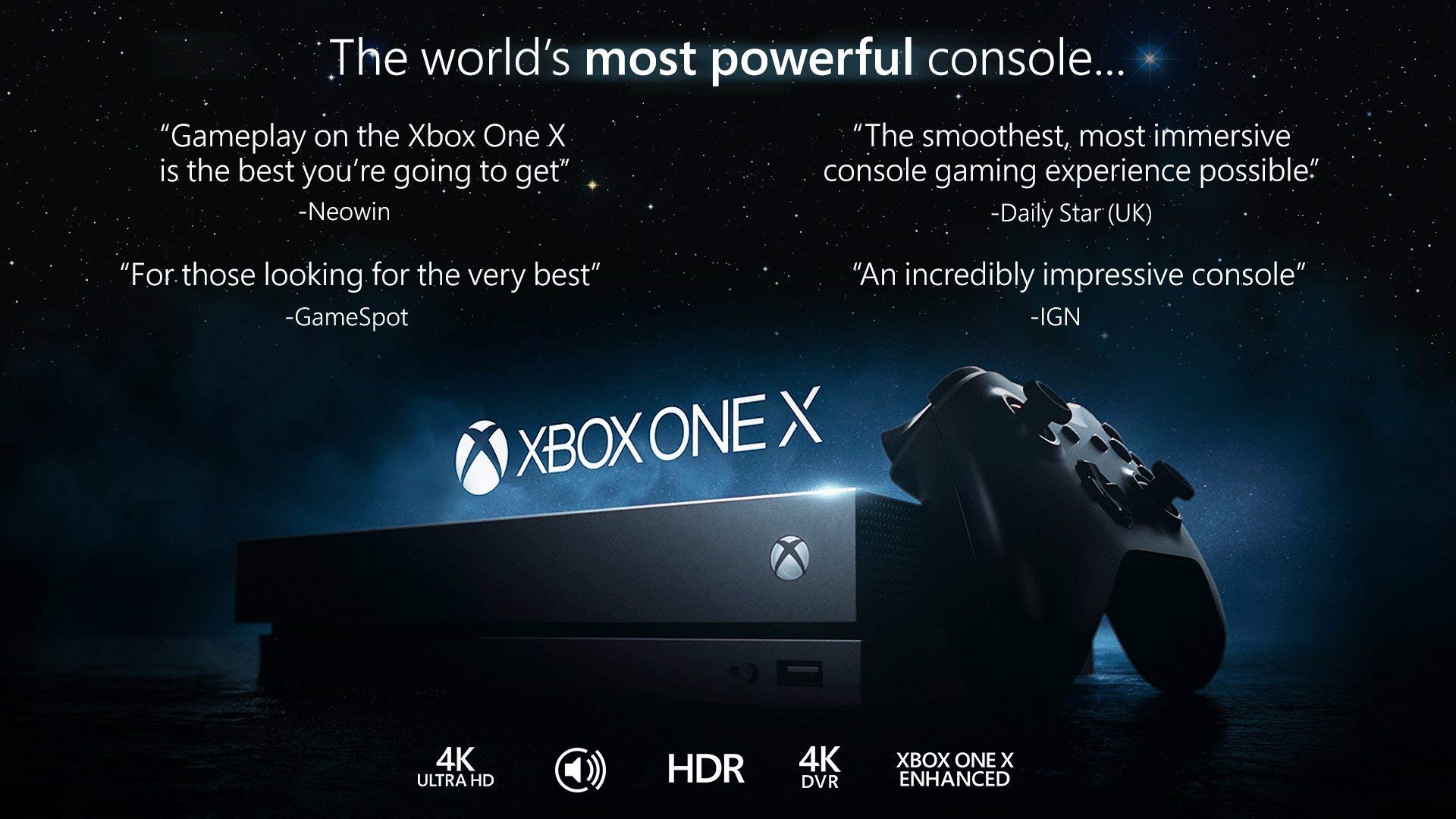 Highlights
Games play better on the new Xbox One X
A 40% more powerful console
Compatible with Xbox One Games
4K Blu-ray player
Graphical processing power of six teraflops
Get ready for a super gaming experience with 1TB hard drive and 40% more powerful console with this Xbox One X. Blockbuster titles look great, run smoothly and load quickly even if it is a 1080p screen. The advanced multi-player network lets you connect with the greatest community of gamers. With the graphical processing power of six teraflops and a 4K Blu-Ray player, the powerful console provides intensive gaming and entertainment. Xbox One Games are compatible with the Xbox One X console.
Descriptions are sourced from Amazon.com
Our Second Choice: Xbox One S Bundle $199
This is a very affordable bundle offering the perfect introduction into gaming and streaming. Whether you are starting on a budget or want to test the waters, you simply can not beat the price. Setting up the Xbox One S is very straight forward allowing you to get your stream up and running right away.

Highlights
Bundle includes: 1TB Xbox One S All-Digital Edition Console (Disc-free Gaming), wireless controller, a 1-Month Xbox Live Gold subscription, and download codes for Minecraft, Forza Horizon 3, and Sea of Thieves. (Sea of Thieves requires an Xbox Live Gold subscription, sold separately.)
Pick up where you left off on another Xbox One or Windows 10 PC with Xbox Play Anywhere titles like Crackdown 3 and Gears Of War 4.
Your games and saves travel with you: just sign in on any Xbox One with your Microsoft Account and you're ready to go.
Stream your gameplay on Mixer with the touch of a button.
Does not play physical discs. Games are downloaded and ready to play when you are; no need to worry about discs.
Go all digital with the Xbox One S All-Digital Edition and enjoy disc-free gaming with three great digital games included: Minecraft, Sea of Thieves, and Forza Horizon 3. Build a library of digital games in the cloud that travels with you; never lose, scratch, or struggle to find a new game to play. Preorder and pre-install upcoming games so you're ready to play the moment they launch. Whether you're gaming, watching 4K entertainment, or streaming your gameplay on Mixer with the touch of a button, there's never been a better way to game with Xbox One. (Sea of Thieves requires an Xbox Live Gold subscription, sold separately.)
Descriptions are sourced from Amazon.com
Join the best community of gamers on the fastest, most reliable multiplayer network

Get maximum performance, speed, and reliability with dedicated servers

Experience the best in competitive and cooperative gaming across Xbox One and Windows 10

Get free games to play every month, worth up to $700 a year

Save up to 50-75% on games in the Xbox Store